From April to December 2018, BNH International Hospital (Thailand) collaborated with some hospitals in Vietnam, including Family Hospital (Da Nang) to organize the FREE Gynecological Cancer Surgery Program. This year's program is the continuation of the successful CSR project about Gynecological Cancer Surgery in 2017.
All of patients regardless of regions and treating hospital could register to receive FREE gynecological cancer surgery by following these steps: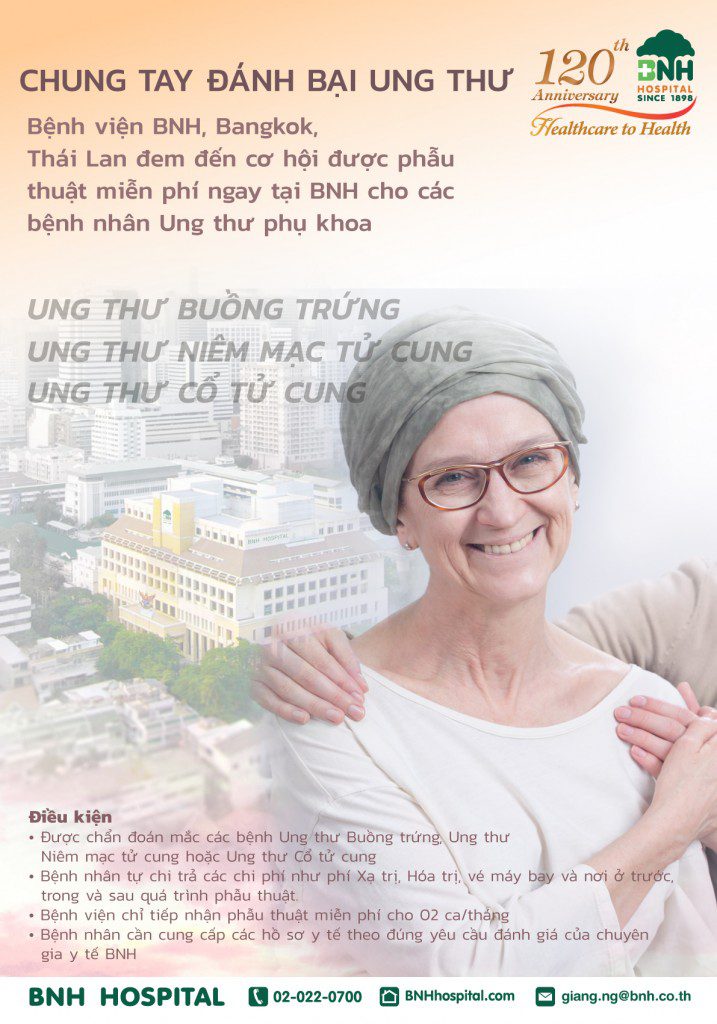 STEP 1:
Contact for direct consultation at:
FAMILY International Healthcare and Consultancy Center
Room 401, 4th floor, Family Hospital
73 Nguyen Huu Tho street, Da Nang.
Prepare your medical reports for submission, including:
For ovarian cancer:
(1) Abdominal CT scan or MRI,
(2) Tumor maker tests
For endometrial cancer:
(1) Abdominal CT scan or MRI,
(2) Pathological results,
(3) Cervical cell tests (Pap Smear)
For cervical cancer:
(1) Pathological results
(2) Cervical cell tests (Pap Smear/ Thin Pap)
STEP 2
Family Hospital is responsible for summarizing all of the patients' medical reports and sending them to BNH International Hospital. Both of the hospitals will review, give consultation, and select patients who matched the criteria of the program.
STEP 3
The representative of BNH Hospital in collaboration with Family Hospital will confirm the patients selected for FREE surgery, and consult details of the treatment process for patients.
Besides, BNH secretariat will support you in giving consultation about other requested services such as interpreters, airport transportation, accommodation in Thailand.
Doctors will review the medical profiles in order to choose 2 patients participating in this FREE surgery program.
Be aware that the program only covers the cost of the surgery. Other expenses such as meals, accommodation, transportation, chemotherapy, and radiotherapy are paid for by the patients and their families.
For detailed information about the procedures to participate in the FREE Gynecological Cancer Surgery Program at BNH International Hospital – Thailand, please contact:
International Department
401, 4th floor, Family Hospital
73 Nguyen Huu Tho street, Da Nang
Phone: 0123 36 32 333 – 0905120283 (Ms Thu)