Cooperating with more than 60 insurance companies to deliver DIRECT BILLING service
Direct billing is the most outstanding utility for customers holding a private/ international insurance card. Up to now, Family Hospital has cooperated with more than 60 insurance providers to offer direct billing services, thus, saving time for patients in reimbursement claim procedures.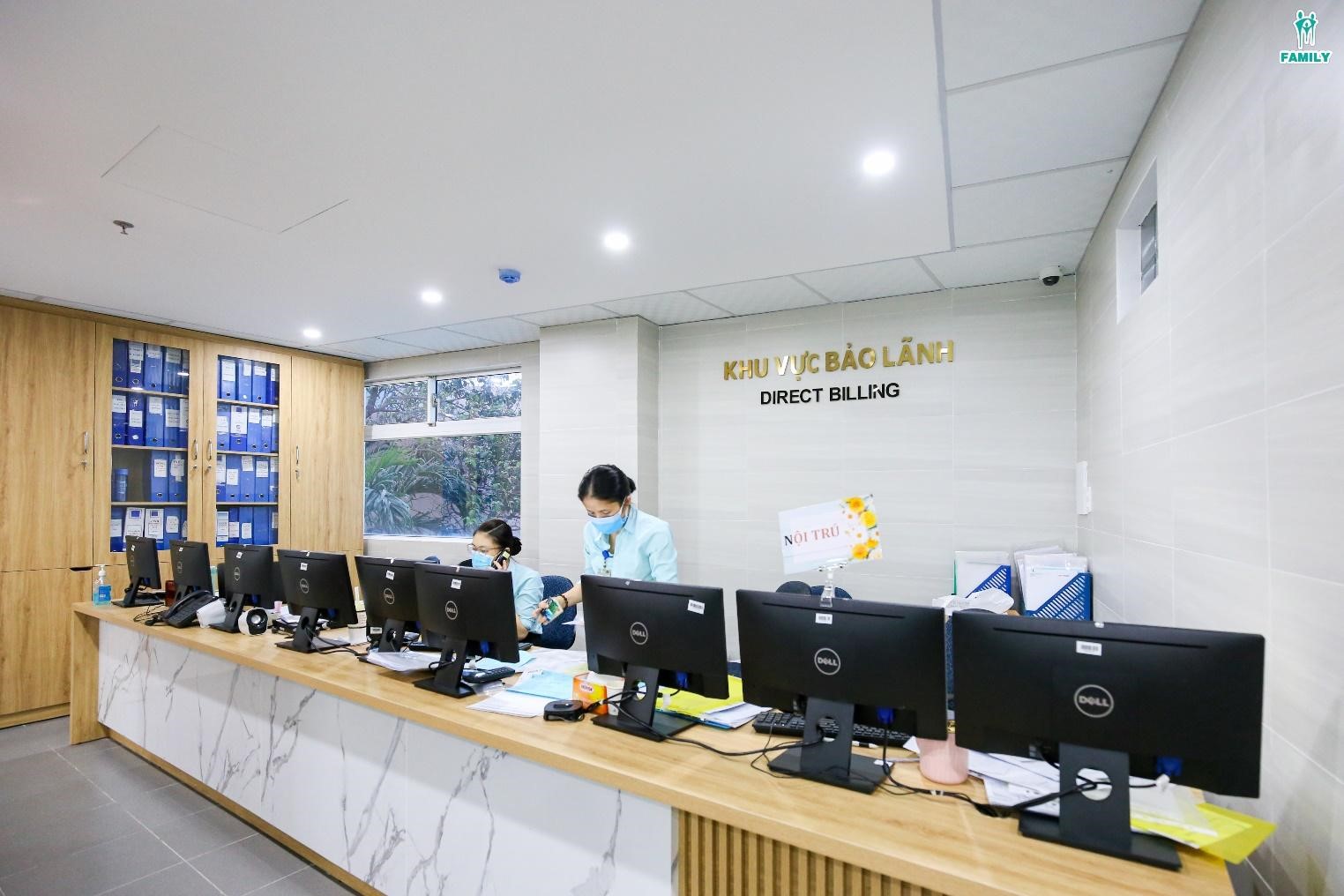 Direct billing Counter contact directly to the insurance company
In addition, at Family Hospital, Vietnamese government health insurance and private/ international insurance can be applied simultaneously. Clients can present two types of insurance at Family Practitioners Center's reception counter on Level 2 or Inpatient wards, then our staff will guide the payment process in detail.
Insurance coverage depends on your insurance policies, medical items, and your disease/ health status. You will pay a copayment or deductible amount if these are applied to your contract.
Enjoy premium services at a reasonable cost
For outpatients
– Welcomed at International clinic and supported by personal staff.
– Priority is given to the selection of doctors and performing paraclinical tests.
For inpatients
– Medical examination in accordance with the Ministry of Health's regulations as well as more times of care.
– Free boiling water and drinking water in the ward.
– Free laundry for patients.
– Free personal kit (face towel, bath towel, toothpaste – toothbrush, shampoo…).
– 24/7 hotline covers all administrative and emergency issues.
Our Direct Billing Procedure
Step 1: Present a valid insurance card and ID card or Passport for outpatients at International Clinic, Level 2, or Inpatient wards if you are admitted.
Step 2: Use the medical services at Family Hospital.
Step 3: Our staff will conduct the payment guarantee procedures with your insurance company or its agent based on the diagnosis and treatment.
Step 4: Our staff will inform the payment upon confirmation from the insurance.
Step 5: Sign the claim form and other related documents (if needed).
For insurance companies without Direct Billing agreement with Family Hospital or payment guarantees that cannot be obtained from your insurance, you may need to settle the payment directly for the hospital and our staff will provide you with the Invoice and necessary medical documents to claim with your insurance.
Our insurance partners